VitraHaus
The New Showroom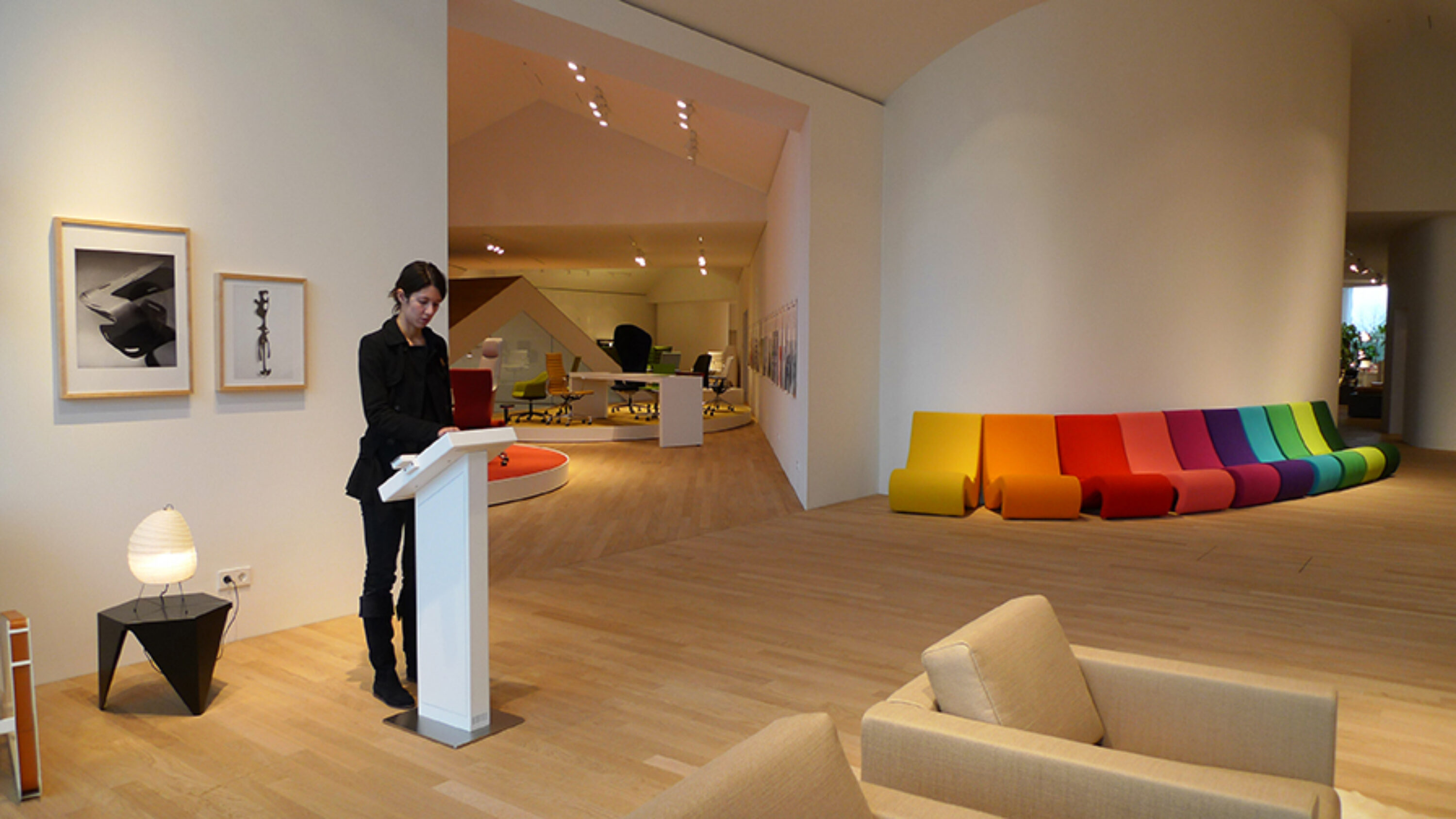 The new VitraHaus designed by Herzog and de Meuron shows products from the Vitra furniture collection. The products are displayed in different groupings – so-called collages – in the various exhibition areas. One or more info terminals are available in every area. In total, around 25 terminals are distributed throughout the house, both in the show rooms and in the shop. The concept of the terminals was jointly developed by Vitra and iart. The implementation of the terminal hardware, system architecture, interaction design and the user surface design were the responsibility of iart in collaboration with tegoro solutions (since 2013 part of iart).
On entering the house each customer receives a RFID card, the so-called VitraHaus key. Customers personalise their key by indicating their country of residence and their language. During their visit, they use their key to log on at terminals and to obtain information. The exhibits are displayed on the home screen. Once customers have registered, they access a second interaction level by touching one of the illustrations on the touch screen. They are then provided with information about the piece of furniture they have selected. All available variations of the item are shown, together with the price and the designer's name. Products which a customer is interested in can be added to his or her personal wish list by a mouse click. The list can then be e-mailed or used by a consultant to order products and then passed on to a retailer.
In addition to the terminals, two more media stations have been realised by iart: the Photo Corner and the Library.
The Photo Corner has proven to be the display's highlight. Visitors can sit in Charles and Ray Eames' iconic La Chaise, photograph themselves and send the photos via e-mail. The photos, taken in black and white, are in the style of portrait photos for a major Vitra campaign that are displayed on the wall of the Photo Corner and that show prominent actors, artists, designers and architects sitting in the Eames chair or other chairs.
The Library is equipped with a Vitra office system module (consisting of a rectangular table with integrated monitors and bookshelves). Here, visitors can immerse themselves in a comprehensive archive of information about designers, architects and Vitra, using the digital data base as well as the available books.
Opening

2010

Location

Weil am Rhein

Client

Vitra AG

Partner

customfuture SA

Services

2D/3D DesignTechnical PlanningSystem DevelopmentSoftware DevelopmentSystem IntegrationProcess ManagementRequirements ManagementCoordinationInteraction DesignControlling