Emmi KALTBACH
Visitor Experience in the Sandstone Cave
Media in the cave
iart contributes with four media installations to the new visitor experience in the KALTBACH sandstone cave. There, Emmi cheeses mature in passages with a total length of 2,300 metres. More than 100,000 cheese blocks age in the KALTBACH cave and are tended to by experienced master cheese makers for up to one year. iart was commissioned to enhance the experience value of the existing visitor programme with media installations and was responsible for their conception, planning and implementation. Today, the visit begins with an impressive cinematic experience on the topic of cheese manufacturing. The film covers two entire walls of the visitors' room. Atmospheric images of a small Emmenthal cheese dairy and its surroundings as well as the story of a young cheese maker immerse visitors into the world of traditional cheese making.

Entrance and guided tour
The film ends with the opening of the door to the cave, where visitors are welcomed by the master cheese maker. He leads them to the first attraction in the cave: an animated film, which is projected directly onto the moist wall of the cave at a width of 17 metres and tells the story of the KALTBACH cave. Following this new introduction into the world of cheese making and maturing, conceived and implemented by iart, the master cheese maker takes visitors on a tour through the passages of the KALTBACH cave filled with cheese and speaks about his daily tasks and experiences. Information panels developed by iart provide general thematic and geographic orientation within the far-reaching cave system.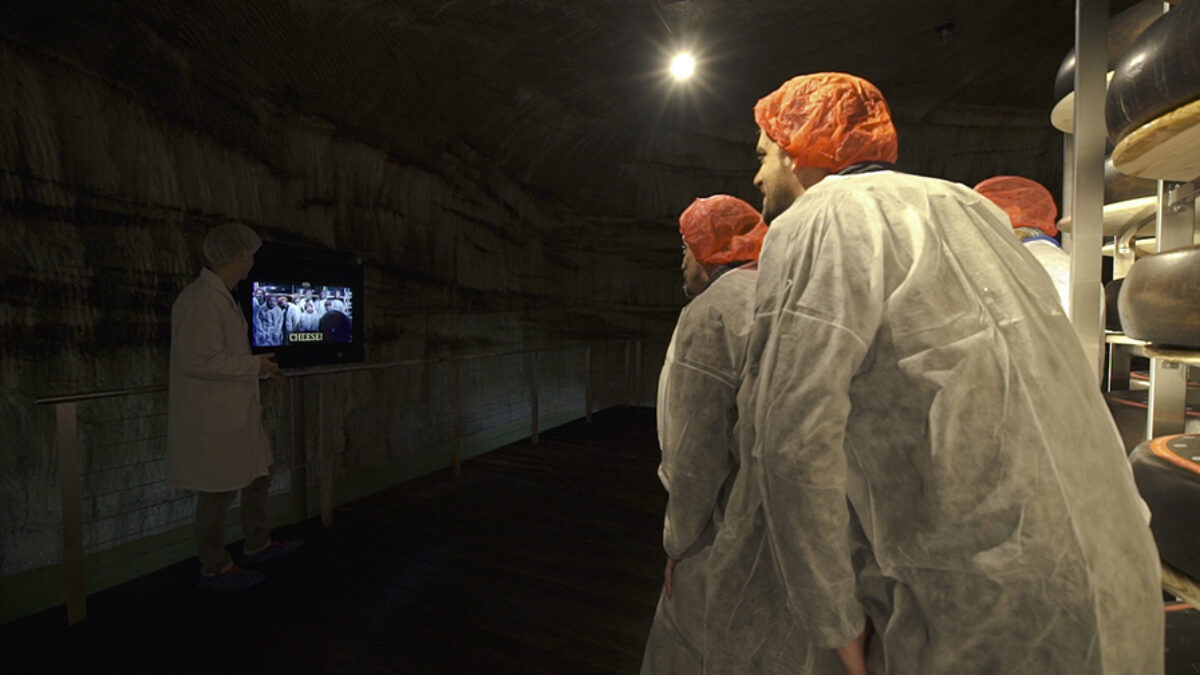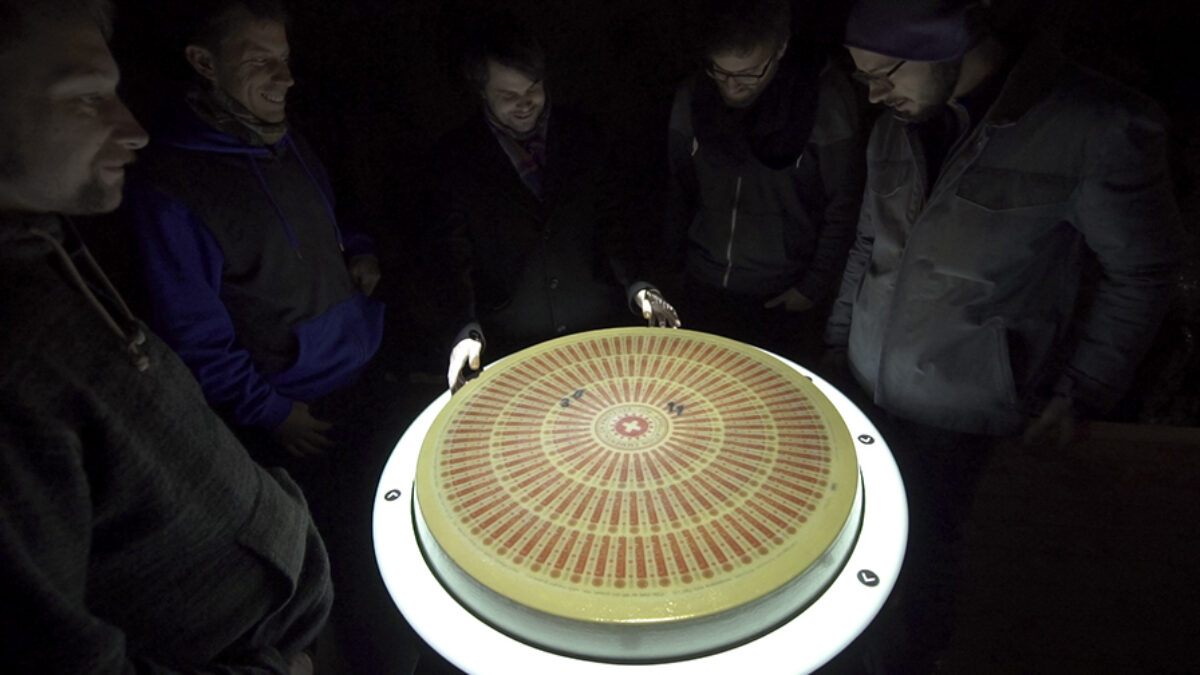 Interactive Cheese
Near a small water source in the back part of the cave, on the so-called lake stage, visitors themselves are able to become active and take a cheese block in their hands. In front of the screen of the photo point, they can dress up as master cheese makers and position themselves with a mock-up of a huge Emmenthal cheese, take a photo by the touch of a pedal and send it via email. Finally, by turning an interactive Emmenthal cheese, the 12-month maturing process in the KALTBACH cave can be individually explored — the second highlight on the lake stage. With each turn, the surface of the cheese changes its appearance and provides information on the respective stage of development: from the golden young cheese to the white and green intermediate stages of the mold formation and to the matured KALTBACH Emmenthal cheese with the black rind. The tour ends with an aperitif in the visitors' room, now featuring images and sounds of idyllic Emmenthal pastures.
Opening

2016

Location

Kaltbach

Client

Emmi Management AG

Partner

Idee und Klang Audio Design

Services

Technical PlanningPrototypingSystem DevelopmentSoftware DevelopmentSystem IntegrationProcess ManagementRequirements ManagementCoordinationContent DevelopmentInteraction DesignControllingAudiovisual Production