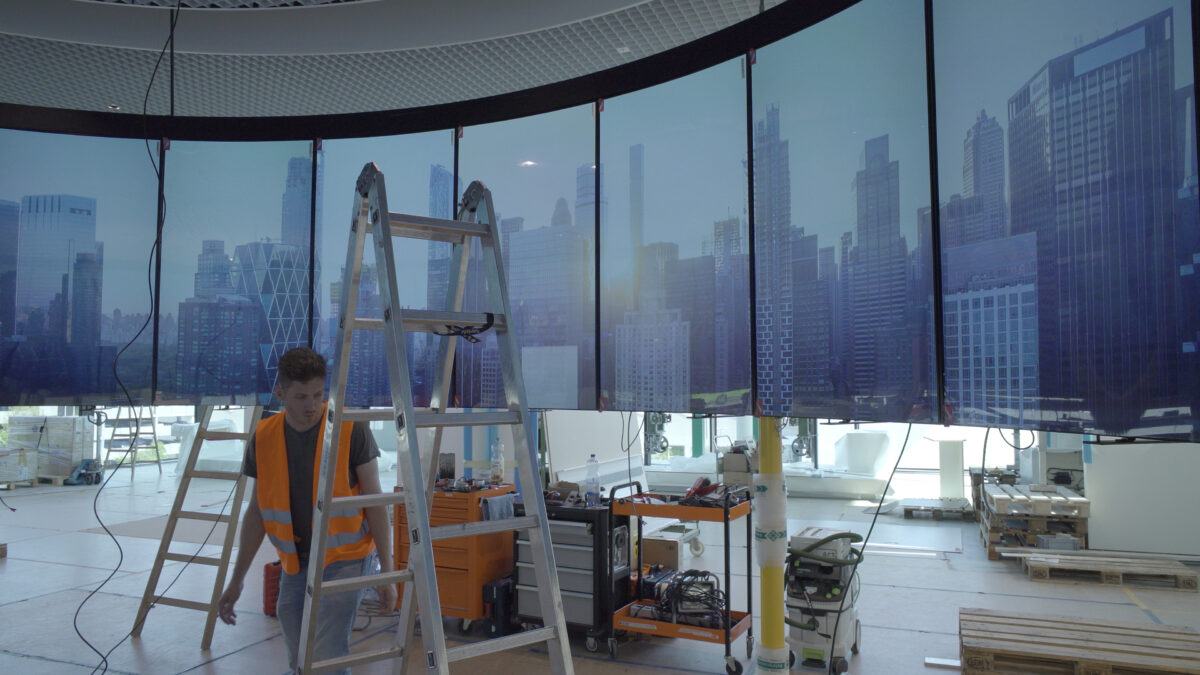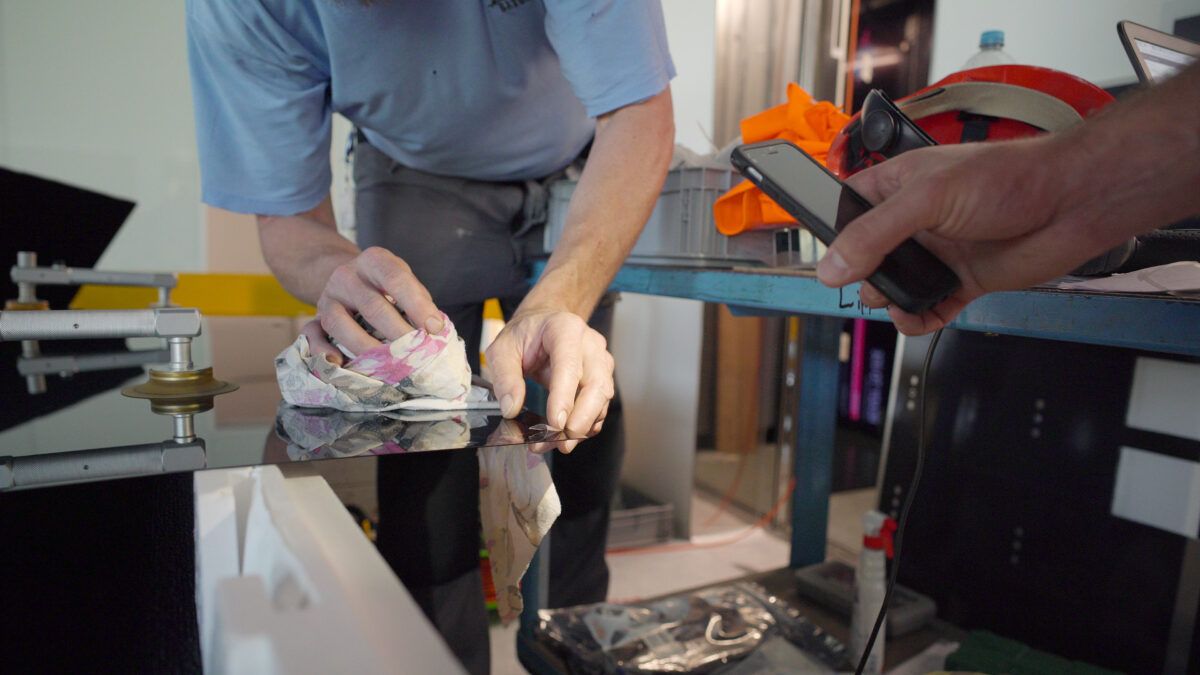 Displays With Ultra-Thin, Transparent And Curved Screens
EXPERIMENTING WITH THE CUTTING EDGE TECHNOLOGIES
For many years, iart has experimented with new technologies, and most recently organic LEDs—OLEDs for short. OLEDs possess amazing properties: thinner and lighter than conventional screens, they can be mounted without edges, with the added benefits of being flexible and transparent. The iart team is exploring the theoretical possibilities inherent in OLED screens in very concrete ways: The 100 x 50 cm and 7 mm thick screens are installed in test setups. Enormously fragile, they require extreme caution. After many tests, and a number of destroyed screens, innovation arises: the OLEDs can now be integrated into built environments, resulting in completely novel new media installations.
CURVED WALLS
The Agora of the Olympic House in Lausanne is host to the first successful application of these flexible OLED screens. Modeled after the Olympic rings its walls are furnished with large, recessed screen areas. To integrate the OLED screens perfectly into the curved walls, iart developed a substructure of startling precision, accurate to the millimetre. Presently, 14 screens form a concave, while 14 others form a convex display.
FREE-FLOATING SURROUND-CINEMA
This curvature principle was utilized even more decisively for the Schindler Visitor Center in Ebikon. Here a total of 28 screens form a circle with a diameter of five meters. Attached to thin wires, the screens floats freely in space. A unique feature is the razor-sharp image which can be seen on the interior. A suspension device enables groups of visitors to enter the circle, lower the screens, and enjoy a circular surround-cinema experience.
LIFT WITH A VIEW
Their svelteness makes OLED screens more suitable than other materials for installation in environments with limited space. For Schindler MAN Cars, iart lined the walls and ceiling of an aerial lift cabin. Since the screens, which are only millimetres thick, have no edges, they can be partially overlapped. In this way, surfaces of different dimensions can be completely covered - and thanks to digital mapping of the image sectors, images run, completely uninterrupted across all screens. Thus, walls and ceiling are seamlessly covered: As soon as the journey begins, the view can transform into virtual vistas. Once the elevator doors open, you enter an immersive cinema – until you depart some time later.
THE NEW GLASS VITRINE: TRANSPARENCY AND INFORMATION DISPLAY
Finally: Under certain circumstances, OLED screens are opaque. They do not need any background lighting, as their black pixels do not emit any light. This is a property iart manipulates to spectacular effect, using the OLED screens as transparent vitrine surfaces. In this manner, contextual information about the exhibit and objects on display can be flexibly shown on them. The potential application for historical collections is tremendous.
THE FUTURE IS LIGHT
The era of thick framed, heavily rear-ended screens is over. With these new innovations, it is conceivable to display information and moving images on fine surfaces of various objects. Thus, augmented realities are created - without the clunky apparatus. Here, the digital is superimposed over the analog world of things.