EWB
Visitorcenter Energiezentrale Forsthaus
Context
In the Energiezentrale Forsthaus Bern, visitors experience the complexity of sustainable and secure energy supply. As part of a tour, a newly conceived, designed and realised information area by iart allows a deeper engagement. Here you can experience the services provided by EWB and how the centre is integrated into the energy infrastructure of the city of Berne.
Digital Contents React to Physical Objects
The central object of the tour is an interactive table that corresponds with an expansive LED installation. Its outline traces the shape of the urban area of Bern, the city map is projected by two beamers from the ceiling onto the surface of the table. But the interweaving of physical objects and digital animation goes further: all relevant parts of the infrastructure - from the energy centre itself to hydroelectric and wind power to private households - are embodied in handy wooden models. They are tracked and the projection reacts when they are placed on the tabletop. For example, the long-distance heating spreads from the energy centre towards a private house - and as soon as this is supplied, it starts to glow. The mechanisms of energy supply are conveyed through a mixture of haptic interaction and visual animation, and complex material becomes accessible through the playful involvement of visitors.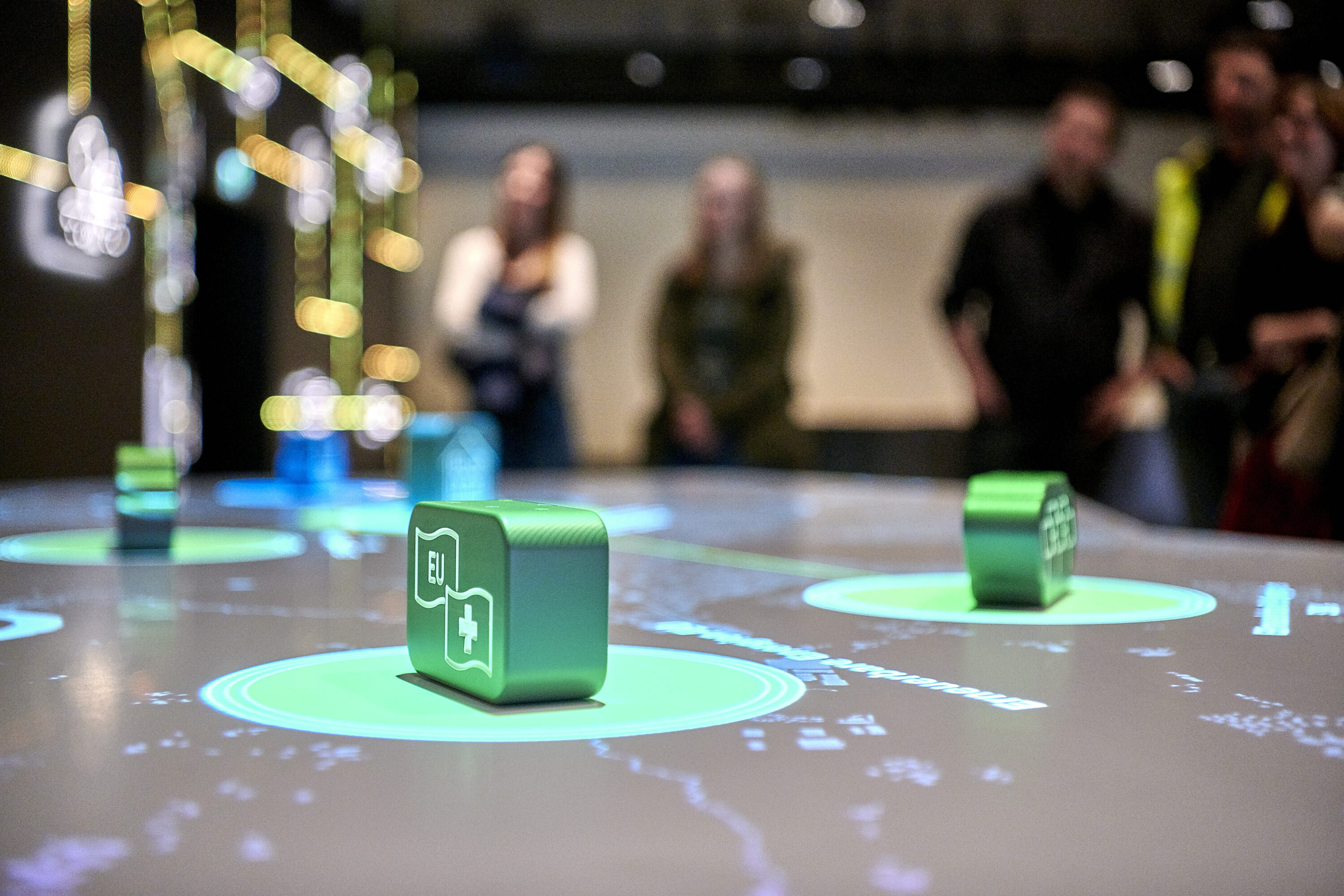 Embedded in the Institution
The limitation to one exhibit - the interactive table - allows the surrounding space to be used for training courses and events. In correspondence with what is happening on the table, the pictograms on the wall light up and create a connection to the architectural space. The communication of the networked energy supply is thus integrated into the overall experience of the energy centre itself.
Opening

2019

Location

Bern

Client

Energie Wasser Bern

Partner

ZMIK studio for spacial design

Services

Technical PlanningPrototypingSystem DevelopmentSoftware DevelopmentSystem IntegrationProcess ManagementRequirements ManagementCoordinationContent DevelopmentAudiovisual DevelopmentInteraction Development

Photos & Video Footage

Adrian Moser / EWB, 2019.